The Stella Amp!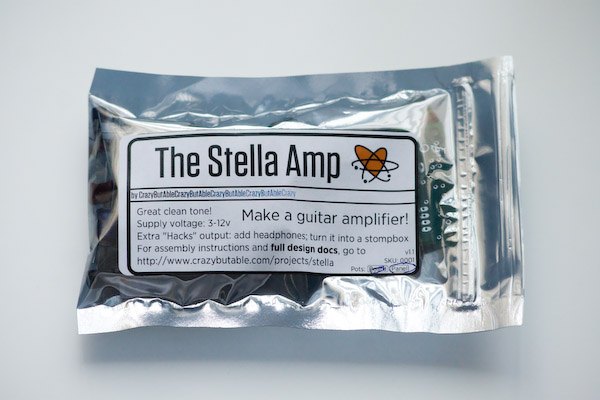 The Stella Amp is a portable battery powered guitar amplifier! Perfect for making your own mini-practice amp, cigar box amplifier, headphone amplifier, or any other kind of battery powered amplifier you can think of.
Engineered for a good clean tone, the Stella amp uses a TBA820M for the back end, with a rail-to-rail opamp on the front end for maximum headroom. But unlike other amps, you don't have to crank it to get it to sound good! The Stella amp was designed in an apartment late at night while my kids were sleeping. Anything that didn't sound good at low volume levels got fixed early in the process.
Many mini-amps use an LM386 for the power stage. The LM386 has a... shall we say, characteristic sound. If you love that sound, then great! If you're not a fan of the LM386, or if you just want a little versatility, then check this amp out.
I have kits available for sale in the store if you want to build one. If you want to buy one already made, I do make some available on the store from time to time.
Features:
Great clean tone; sounds good at low volume levels
Versatile controls, with Gain, Trim, and Level pots
Works with a wide range of supply voltages (from 3-12 volts; up to 16 volts if you replace the opamp)
1-2 watt amplifier, depending on supply voltage and output speaker (no heatsink necessary!)
Extra "Hacks" output! Turn the Stella amp into a stompbox, add headphones, a line output, or whatever strikes your fancy
Small foot print will fit in nearly any enclosure
100 percent Open Source Hardware
Video!